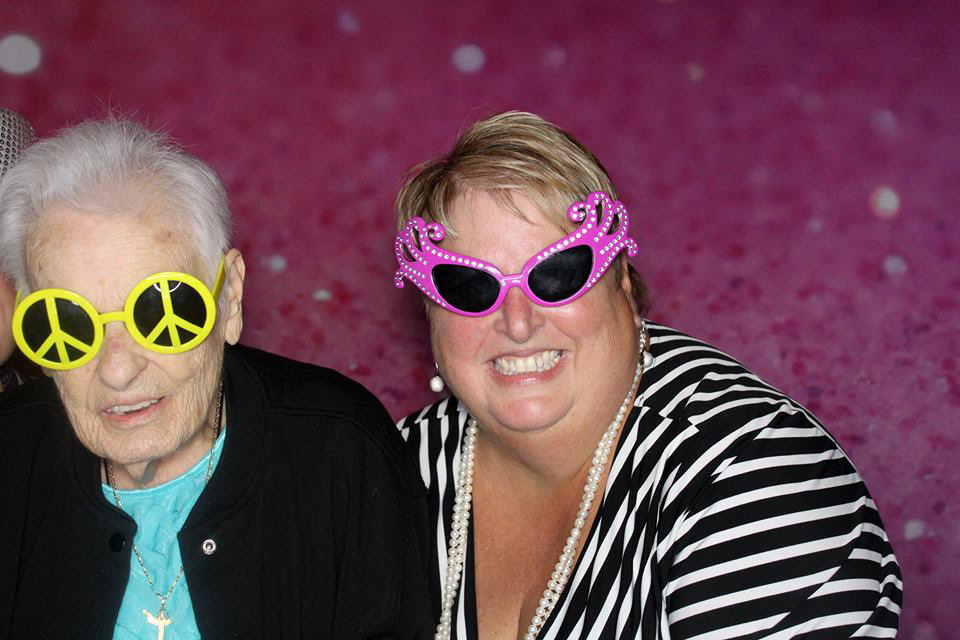 This is Me. This is Jeanne Brais [on the right]. And that's Margaret. She's my Mom. Just a couple of party girls in fancy glasses.
I started on my graphic design career path after a 7-year gig with American Express New Business Development group. My Amex job was moving to Phoenix and since I didn't fancy living in an "Oh, but it's a dry heat" 114 degrees, I chose to stay in South Florida and take my chances finding something new. Part of my outplacement service was counseling that allowed me to delve more deeply into what exactly "it" was that I liked best about my last job. I kept coming back and back to a Provider Directory that I assumed responsibility for designing in the course of another project. This led to getting retrained on how to use the brand new Adobe and Quark Xpress design software and launching myself in a totally new, design-oriented direction. 
I have the phenomenal good fortune of having wonderful vendors and friends in the graphic design business, who took me under their respective wings and showed me the ropes. That combined with a modicum of my own talent, unflagging determination, piqued interest & curiosity and a dollop of "joie de vive", I built a career spanning two decades and thousands of miles working for
Microsoft, Nickelodeon, Viacom, Paramount Pictures, VH1, MTV, Travelpro Luggage, FOX Sports Net, Tire Kingdom, NCL, Royal Caribbean Cruises, Carnival Cruise Line, Costa Cruises, Miami Dade County Police, Fire, Corrections, Transportation, Airport, Port, Parks & Recreation
, and others. I have dabbled in music production, video & tv, radio, event production, a smattering of web design and oodles of print, including outdoor, vehicle wraps and environmental design. I have created brand identities from nothing, adapted existing identities and elevated brands to new places through these varied mediums. I've worked as a member of a team, managed direct reports or acted as a solo hired-gun. I've worked on corporate budgets and no budgets. I've worked for and with some of the greats...and I'm humbled with gratitude for all that I've learned.
My dad always called me "quick on the uptake" which I translate into "an ability to learn new concepts easily." I think I got this from him. He was a pip. When he and my Mom needed me in 2007, I gladly took a giant step backward from work and was involved in their care for as long as they needed me. I was still working as a designer, but in a smaller, freelance capacity. From home I worked with
Broward Health, Covida Insurance, CGI Windows and Doors, CCCME Conference Management, The Village at Gulfstream Park, MSC Cruises 
and others...all really fantastic clients. 
Now my time with the parental units is through, I find myself wanting to get back to work full time...so here I am. Old enough to know better, but still young enough to try. Evenly-tempered, well-experienced, knowing the value of a dollar and of a day--I believe I'm better than ever. I'm looking for the next project or place that needs someone with a solid work ethic, talent to spare, is up to date with all relevant software and is as comfortable building her own book from scratch as she is helping someone else build theirs. One of strengths I value most is possessing creativity coupled with reasoning analytics...I can imagine and account simultaneously...rare indeed.
Please reach out with freelance or full-time opportunities via email to
bhive.design@att.net